THE BICKENS STORY
An elegant and refined blend
Bickens is an elegant and refined interpretation of a London Dry Gin. Born in 2012, its uniqueness is rooted in its production process and in the blend of 10 complementary botanicals selected from around the world.
Bickens is the ideal gin for the bartender who loves to experiment and prepare modern, high quality cocktails.
It is a blend that has a story to tell from the unbeatable combination of two distillates crafted in two different copper stills: Angela & Jenny, creating a marriage between tradition and contemporary distilling.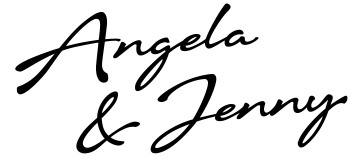 Past, present and future.
Angela & Jenny represent the past, present and future of Bickens.
It is a unique blend, combining passion, quality and competence.
The two pot stills are the symbol of a marriage of tradition and modernity, a combination of two recipes produced in two pot stills from different generations.
Angela is a century-old pot still, in which a modern recipe is distilled with a particularly aromatic profile, including notes of nutmeg, cinnamon and sweet orange.
Jenny is an eighteen-year-old pot still in which a 300-year old gin recipe is prepared. This recipe is characterised by a dry profile, with a fresh and citrus-like coriander note.
Angela & Jenny are the protagonists in a distillation process that has been created by Master Distillers with a combined total of over 100 years of experience.
BOTANICALS
Details that make the difference
The success of Bickens is based on the quality of the selection of botanicals from all over the world. The fruits, seeds, barks, roots, and peels are combined to create a gin that is both fresh and citrusy on one hand, but also dry and robust on the other. A fine London Dry Gin for modern mixing.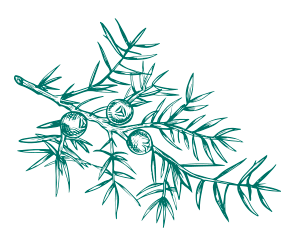 Juniper berries
from Italy and the Balkans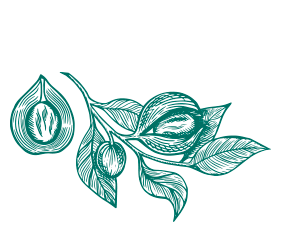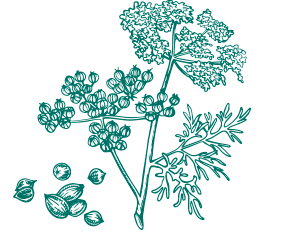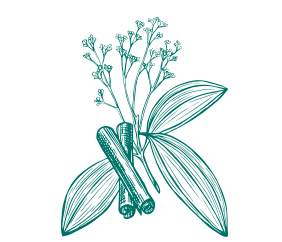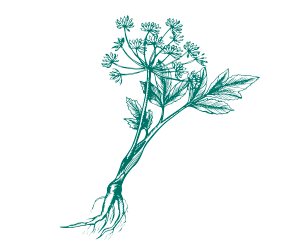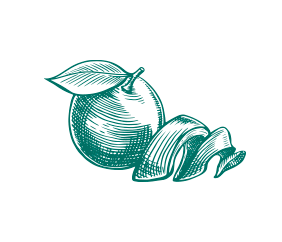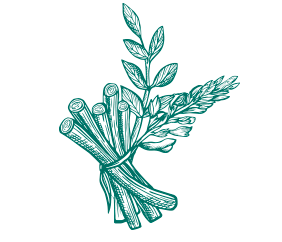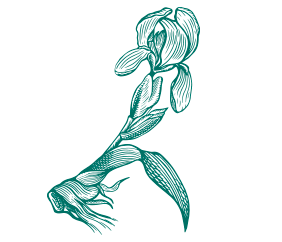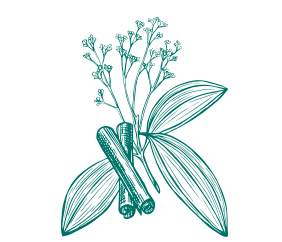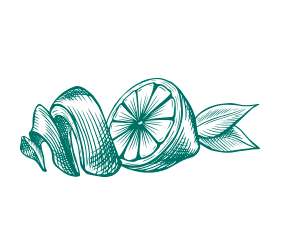 OUR PRODUCT
Quality first
The unique flavour of Bickens comes from the distillation process in the historic Langley Distillery. The distillery was founded in 1805 near Birmingham, England, in a location where three underground water sources flow together, forming a natural reservoir. This natural water source continues to contribute to the perfect conditions for high quality distilling.
It is one of the oldest family run distilleries in England, with both modern and antique copper pot stills, over a century of distilling experience, and careful attention to quality and modern tastes. These factors combine to create the unique blend that is Bickens Gin.
Six phase production process
There are six phases in the production process to create the perfect blend.
It begins with a careful selection of the botanicals, followed by the distillation of the recipes in the two pot stills. Then the two distillates are mixed to end with a marriage of flavour and dilution ready to be bottled. Meticulous attention-to-detail is paid at every stage.
Bickens London Dry Gin is bottled in a traditional and elegant style, and is available in two sizes 100 cl and 70 cl.
Bickens also offers a Premium Pink Distilled Gin giving a fresh, citrusy alternative with a touch of sweetness.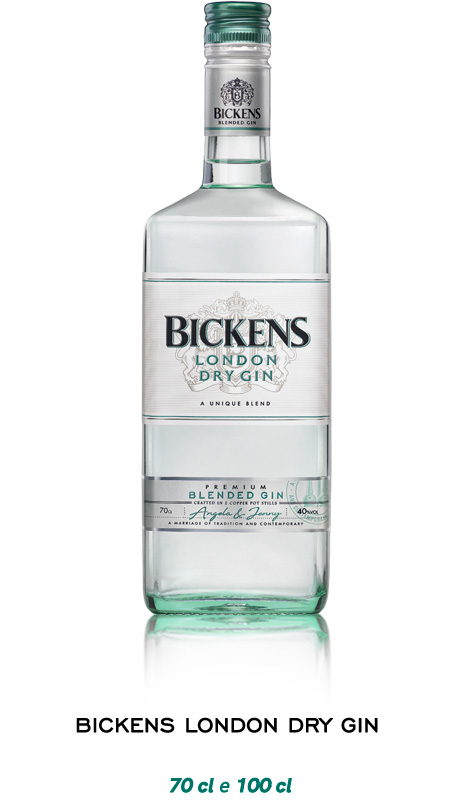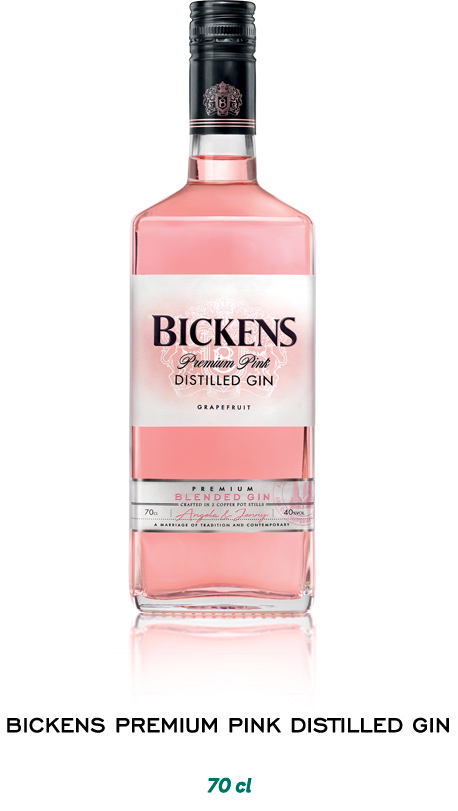 BICKENS PREMIUM PINK DISTILLED GIN
A new shade of pink
Bickens Premium Pink Distilled Gin combines the unmistakable taste of Bickens with the delightful addition of a natural grapefruit aroma.
This fresh and original version is perfect for bartenders who want to create lively cocktails with a citrus aftertaste, without losing the spicy and velvety character that distinguishes it as Bickens.
Accurate distillation in the production process is essential to achieve the right balance. The subtle taste of grapefruit is incorporated through a specifically designed mixing technique:
● Ad hoc mixing, to ensure the perfect grapefruit taste;
● Addition of natural grapefruit flavouring to ensure a fresh taste;
● Dilution with water to bring the distillate from 80% vol. to 40% vol.;
● Addition of colour and a small amount of sugar, to round the flavour;
● Bottling of the completed Distilled Gin.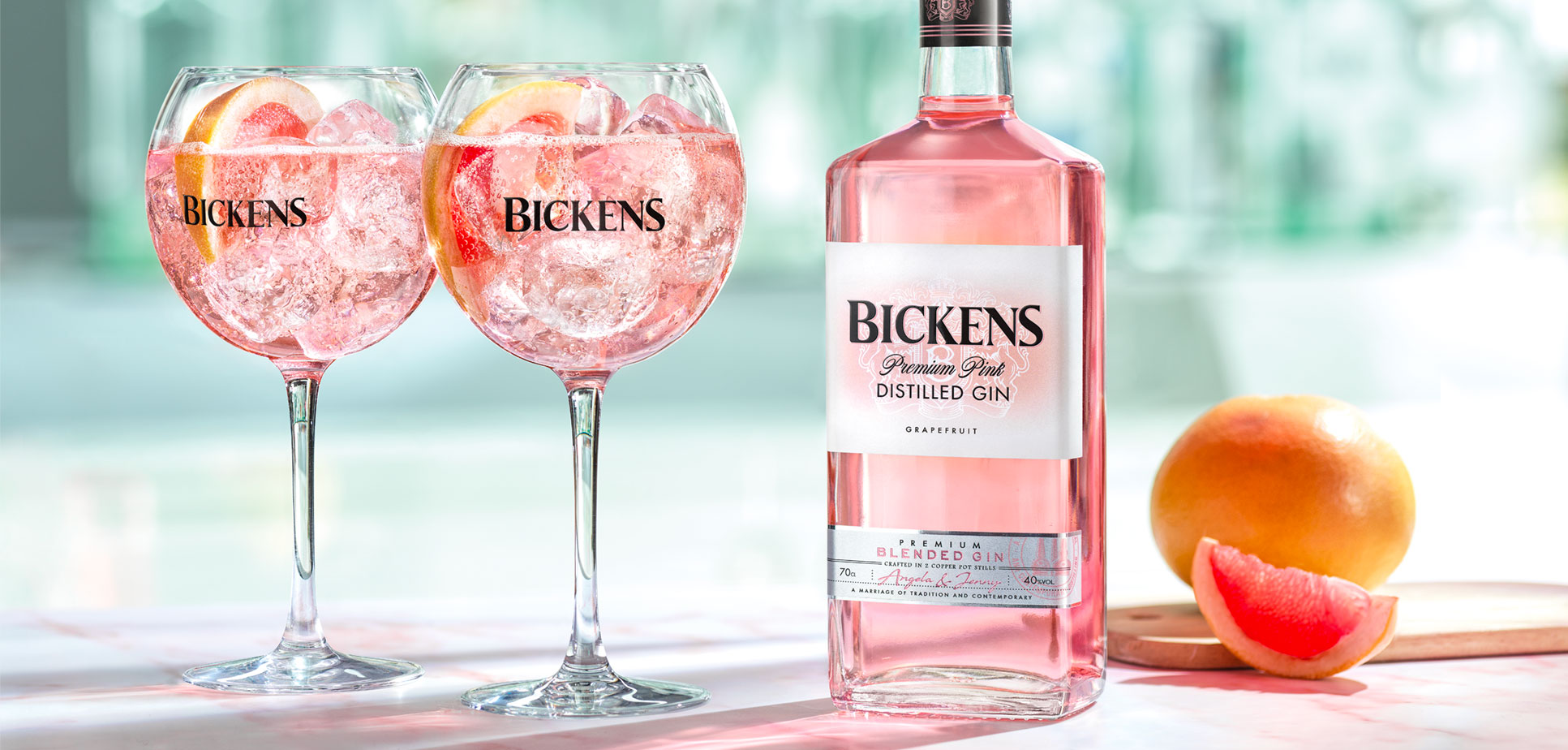 BICKENS LONDON DRY GIN
Production process
Bickens London Dry Gin stands for quality, passion and competence, thanks to the careful selection of the 10 botanicals and the meticulous 6-phase production process: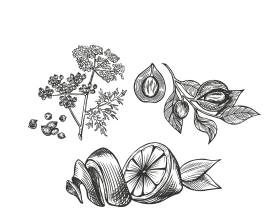 BOTANICAL SELECTION
10 botanicals are sourced from around the world to create a high quality blend.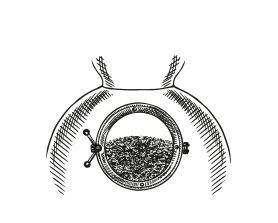 MACERATION
botanicals are soaked in neutral grain spirit and warmed, then left overnight in order to extract more robust flavors.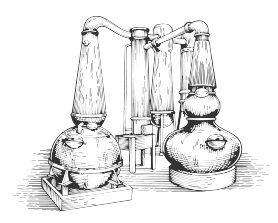 DISTILLATION
in traditional copper pot stills Angela & Jenny, careful to collect only the 'heart' of the distillate. Distillation lasts about 3-4 hours.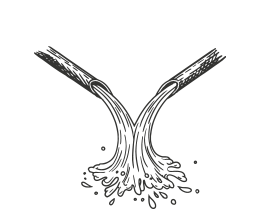 BLENDING
of the distillates from Angela & Jenny.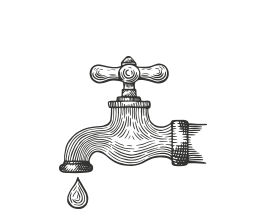 MARRIAGE
of the flavors and dilution from 80 %vol. to 40 %vol with the addition of water.
BOTTLING
of the completed London Dry Gin.